Carl-Johann Simon-Gabriel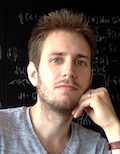 Postdoctoral Fellow
cjsg@ethz.ch
CAB G 68
+41 44 633 88 31
---
About CJ
I am a post-doc working on adversarial images, kernel methods, reinforcement learning and causality.
I did my PhD at the Max Planck Institute for Intelligent Systems in Tübingen (Germany), under the supervision of Prof. Bernhard Schölkopf. My PhD thesis "Distribution-Dissimilarities in Machine Learning"  presents many well-known distribution dissimilarities (KL- and f-divergences, total variation, Wasserstein-distances, kernel mean embeddings) as specific types of "classifier based dissimilarities", which happen to be implicitly used in state-of-the-art generative algorithms such as  GANs and VAEs. At the beginning of my PhD, I also briefly worked on causality applied to exoplanet detection, as well as bio-computational algorithms for genomic wide association tests (GWAS).
I am also very interested in energy and climate change related questions, and hope to be able, one day, to efficiently help reducing our carbon footprint.
Publications
2021
2020
2019
2018
2017
2016
2015