Mojmír Mutný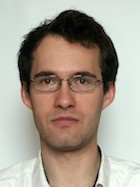 PhD Student
mojmir.mutny@inf.ethz.ch
CAB G 65
+41 44 632 74 06
My research focuses on optimization methods for machine learning, and machine learning methods used as optimization tools. I addition, I am broadly interested in theory of learning, experimental design, active learning and numerical linear algebra. My work tries to deliver practical algorithms with certifiable guarantees.
Before joining the group, I have obtained a masters degree in Computational Science at ETH Zurich and a bachelors degree in Mathematical Physics at University of Edinburgh. I interned at Disney Research and SwissQuant.
---
Publications
2022
2021
2020
2019
2018